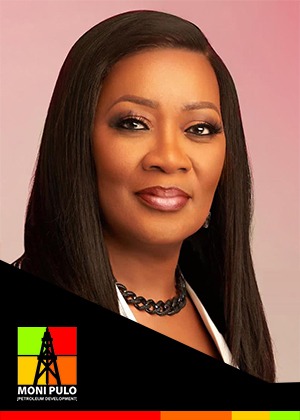 Since 2019, Dr. (Mrs.) Seinye O.B. Lulu- Briggs has been the Chairman/Chief Executive of Moni Pulo Limited (MPL). MPL is one of Nigeria's most successful pioneer indigenous oil and gas exploration and production companies with an outstanding health and safety record of over 5 million manhours NLTI, excellent relationships with host communities and zero security issues. Before that, from 2005, she was Executive Vice Chairman, supporting the Chairman in overseeing the strategy and operations which have consistently functioned at peak performance, while maintaining good standing with the regulatory and fiscal authorities, thereby creating value to all stakeholders. She also led MPL in the acquisition and signing of Production Sharing Contracts with Nigerian National Petroleum Corporation for 3 oil and gas blocks. These assets are currently at different phases of exploration and appraisal, ahead of determining their commercial viability for development. In addition, MPL is scheduled to carry out production optimization project in one of the 5 prolific fields of its legacy block, OML 114. This is aimed at extending the life of the field and increasing its daily oil production. In line with MPL's commitment to clean energy and to reducing the flaring of gas in Nigeria, she is also leading a gas commercialisation project to bring MPL's over 1 TCF proven gas reserves in OML 114 to market.
Mrs. Lulu-Briggs/Seinye is the Founder/Chairman of the O.B. Lulu-Briggs Foundation, a leading Nigerian NGO with a mission to enhance the well-being of the under-served working through interventions in elder care, health, education, economic empowerment, water & sanitation, agriculture and humanitarian services. An ordained minister, she leads worship at the non-denominational Chapel of God International Worship Center, Port Harcourt, Rivers State.
Dr. (Mrs.) Seinye Lulu-Briggs started her career in 1981 as a pioneer staff of the Computer Services Department of the Central Bank of Nigeria, eventually becoming Head, Computer Operations. She went on to work in commercial and community banking serving in operations and branch establishment. Following a stint as Head of Finance and Administration at WW Whyte International, an oil services company, she established her first business in the ICT services sector. Since then, motivated by her personal commitment to tackling widespread unemployment in Nigeria, she has established several businesses including, La Sien Bottling Company, Mamina Autoshop, Soliyama Leasing Company, Ludal Petroleum Resources Limited, and Pathway Universal Investments Limited. 
In addition, she invests in your and women owned small and medium size companies in the hospitality, lifestyle and media sectors. She has also served on several boards including Intercontinental Bank Plc., Intercontinental Properties Ltd., Oasis Insurance, Flexmore and Transcorp.
She is a fellow of the Institute of Directors, Nigeria and a member of the Institute of Data Processing Management, London. She has received several business awards including the Centre for Economic and Leadership Development's Global Inspirational Leader Award, the Africa-Middle East-Asia Amazons Global Inspirational Leadership Award, and a Special Legislative Commendation by the Georgia State General Assembly.
A graduate of Information Technology from East Ham College of Technology, she routinely attends local and international training courses, most recently Harvard Business School's Owner/President Management Programme. In 2015 she received an honorary Doctor of Science (Honoris Causa) degree from the University of Port Harcourt, Rivers State, Nigeria in recognition of her business acumen and philanthropy.